Involvement with Local Communities
As a corporate group trusted by society, the Kyowa Kirin Group seeks to coexist with the local communities in which its business sites are located, striving to build relationships of trust through a wide range of initiatives and opportunities.
Kyowa Kirin Group Community Involvement Activities Policy
Established on January 27, 2017
Revised on March 14, 2019
We at the Kyowa Kirin Group recognize that it is possible to contribute to the health and well-being of people around the world only after the sound development of society. We continue to engage in community involvement activities as a good corporate citizen supporting society and walking with society by leveraging our management resources.
1.

We focus on community involvement activities related to biotechnology and health.

2.

We aim to contribute to the next generation and to grow together with local communities through community involvement activities.

3.

We encourage employees to participate in community involvement activities.
Concept: By depicting leaves linked to one another, the logo expresses a cooperative body in which its members join hands to open up the future together. In the middle looms a bird with open wings flying above the round Earth, illustrating the aspiration to launch out into a brighter future. The logo uses colors that evoke images of the sun, the open sky and the earth.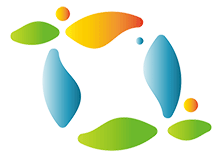 Fostering Next Generations
Bio Adventure activities
Kyowa Kirin hosts science experiment classes for children with the aim of contributing to fostering next generations in the local communities where its plants and research laboratories are located and developing a sense of trust and familiarity among local people by publicizing the Company's business and strengths.
The name Bio Adventure has been commonly used for all our science education activities since 2016. A new logo was also created. In 2016, the science class was offered 11 times nationwide, attracting a total of 459 participants.
We issue an open invitation to employees to run the activities with the aim of raising employees' interest in social contribution.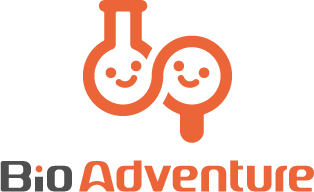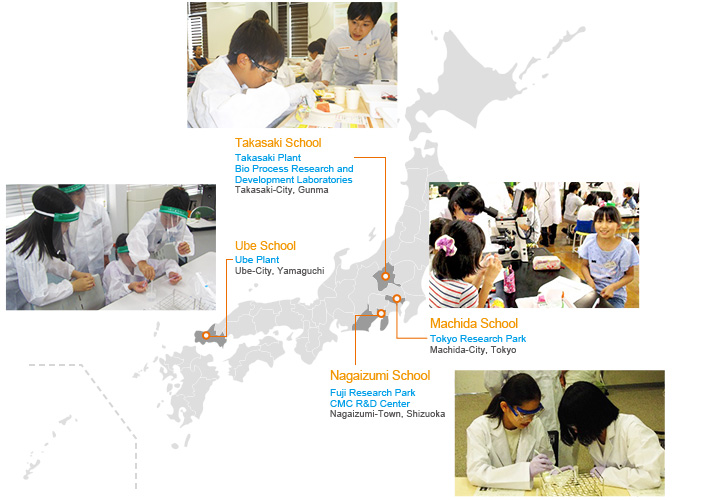 Interacting through Sports
The Kyowa Kirin Group interacts with local communities through sports events. In recognition of its sports-related social contribution activities, Kyowa Kirin was certified as a Tokyo Sports Promotion Company for the third consecutive year since 2015 under the Tokyo Metropolitan Government's certification program aimed at encouraging private companies to promote sports*.
In January 2017, we joined TEAM BEYOND, which is a parasports promotion initiative led by Tokyo to create a future society where everyone can fulfill their potential.
Tokyo Sports Promotion Company Certification Program

Table Tennis
Since its foundation in 1974, Kyowa Kirin's table tennis team has consistently maintained a top-tier position, sending its players to play in wide-ranging international competitions. The club collaborates with the Group's business sites nationwide to host table tennis lessons and exchange programs for table tennis lovers and primary school, junior high and senior high school students as well as other stakeholders.
In addition, the team has visited special needs schools or facilities for disabled in the vicinity of the area visited during the match the day after the game and hold exchange meetings playing table tennis.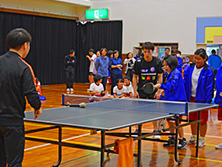 Furthermore, since 2010, we have been annually hosting the Kyowa Kirin Table Tennis Friendly Match, where table tennis lovers gather from across Japan. In 2017, the event attracted around 700 players, who enjoyed playing matches against one another and receiving one-point advice from professional players.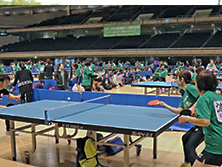 Together with the Machida Table Tennis Federation, we hosted a table tennis clinic at the Tokyo Research Park. Around 120 junior and senior high school students in Machida City participated to learn skills from players on the Kyowa Kirin table tennis team.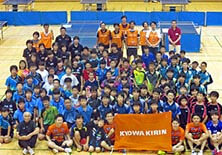 In Collaboration with Local Communities
As a good corporate citizen, the Kyowa Kirin Group is making efforts to emphasize interaction with local residents in the vicinity of business sites in order to deepen ties with local communities.
Communicating with local residents
To help local residents better understand its activities, Kyowa Kirin's Takasaki Plant delivered a presentation to them on the Company's business as well as its initiatives to promote environmental conservation and health.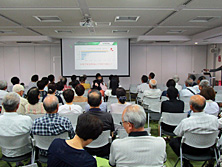 Seminar for local residents
Since 2005, Kyowa Kirin's Fuji Plant has been hosting a seminar every year on health-related topics for local residents. The theme of the 2017 seminar was the mechanisms of immunity and diseases and was attended by around 90 people.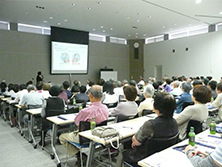 Interacting through local community events
Employees from Kyowa Kirin's Fuji Plant participated in the parade at the Nagaizumi Wakuwaku Festival, a local event put on by the town where the site is located. In 2017, the plant's team of participants received an award for their energetic display.
At the 66th Ube Festival, employees of Kyowa Kirin's Ube Plant, Kyowa Kirin plus, and Kyowa Iryo Kaihatsu joined in the parade and set up an exhibition booth. The festival—the largest in Ube City—attracted around 230,000 people in 2017.